Big Bad Toy Store lists great new Star Wars Items!
-- Posted by Tamer on Thursday, October 23 2014
2014 STAR WARS 6" BLACK SERIES 04 - CASE, SET, SINGLES
Hasbro's new 6" Star Wars Black assortment includes Ep III Obi-Wan Kenobi, Ep IV TIE Fighter Pilot, Ep III/Ep V Yoda and a Clone Trooper Sergeant. The Case of 4 is listed at $79.99; we also have the set of TIE Fighter Pilot, Yoda and Clone Trooper Sergeant listed at $74.99. Singles are also available, with Obi-Wan listed at $9.99, Yoda, Clone Trooper Sergeant and TIE Fighter Pilot range $22.99 to $25.99 each.
http://www.bigbadtoystore.com/bbts/search.aspx?search=2014%20STAR%20WARS%206%22%20BLACK%20SERIES%2004

STAR WARS EGG FORCE
Bandai has created Star Wars egg figures that change into an egg. Darth Vader, Stormtrooper, R2-D2 and C-3PO are the four characters up for pre-order.
http://www.bigbadtoystore.com/bbts/search.aspx?search=star%20wars%20egg

STAR WARS 12" ADMIRAL ACKBAR
IT'S A TRAP!! Not really, but it is Admiral Ackbar being added as the latest edition to the Star Wars jumbo line. This cool figure is priced at $71.99 which is $8 off the MSRP!
http://www.bigbadtoystore.com/bbts/product.aspx?product=GG10675&mode=retail

---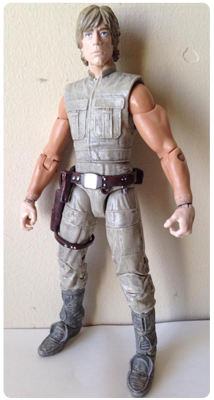 Clonesniper78 shows us work on a six inch Dagobah Luke...
-- Posted by Tamer on Thursday, October 23 2014
"WIP of my latest project. Feels good to be working on Star Wars stuff again. Here is Dagobah Luke Skywalker in training! Need to do some sanding to his shirt and add a little paint. His arms came from a WWE female wrestler chick named Kaitlyn that I found at Walgreens for like 11.50. His hands are the original Luke hands." Looks pretty good to me.

---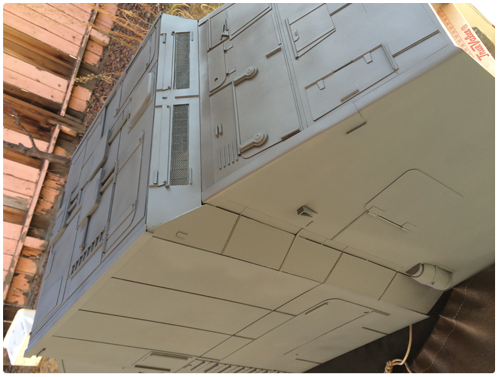 HALCION shows more progress...
-- Posted by Tamer on Thursday, October 23 2014
"So far I have done the front hull complete side seal, the back venting and started planning the upper leg!" He is definitely headed into the home stretches and I can't wait to see this on its legs. Make sure you follow the full build here.

---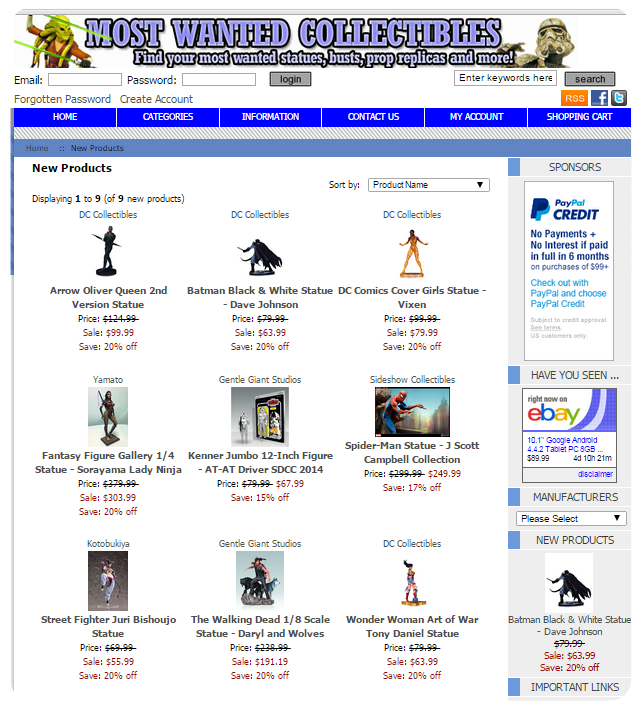 Take a look at the new products at Most Wanted Collectibles!
-- Posted by Tamer on Wednesday, October 22 2014
I thought it was high time we featured where you find the brand new collectibles that Most Wanted Collectibles lists each month. From Star Wars to Marvel to DC to things in between you will see they have all your high end collecting needs covered.

Speaking of where you find things why not take a look at all of their Star Wars Products as you will see you have quite the selection. You can find many items at MWC that you will not see listed from any other etailer. If you are into high end collecting I would make Most Wanted Collectibles your goto place!

---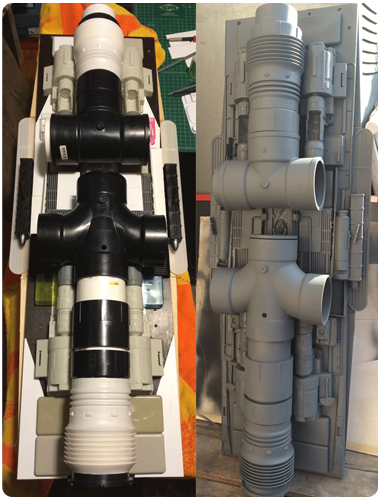 What can I say? Its Update 15 for the HALCION 6 inch Scale AT-AT!
-- Posted by Tamer on Wednesday, October 22 2014
"Well with neck securement out of the way , I can finish the outer hull and body details, I also will need to do a back wall for the head and rear neck passageway , I've added the underbelly details and will continue to add more, the legs and feet will be solid resin with steel rods , not there yet!" It was pretty interesting to see the parts he used on the underbelly of this!

---
A closer look at the Premium Format Boba Fett!
-- Posted by Tamer on Tuesday, October 21 2014
Inspired by his brief, but unforgettable appearance in Star Wars Episode V: The Empire Strikes Back, Sideshow is proud to present the Boba Fett Premium Format™ Figure.

---
Ron Hembling is on a 6 inch customizing extravaganza!
-- Posted by Tamer on Tuesday, October 21 2014
Yesterday he wowed us with his work on a 6" Hoth Scout Trooper and an Aqua Trooper and then he dropped this little bomb! "I decided to start on a third project and this time it's another AT-AT Gunner but this time in 6" this is going to be different from the 3-3/4" & 12" ones I have done as he is not going to be in snow out. This small cross section dio will depict the gunner on the ready with a few Stormtroopers ready to deploy." Folks these are just three projects you will want to follow!

---
Its HALCION with a new AT-AT Update!
-- Posted by Tamer on Tuesday, October 21 2014
"Full neck and head support system in place and secured!" I think its pretty cool to see how the inside support structure for this is going together. As you can see this is gonna be more than just a statue! I cannot wait to see this finished. I seem to be using a lot of exclamation points when I describe this? ;)

---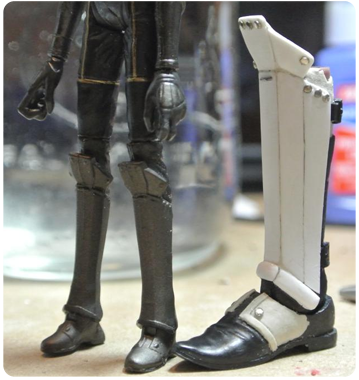 Candy Blues continues his Darth Plageuis six inch build...
-- Posted by Tamer on Tuesday, October 21 2014
"Hey guys, just gonna drop some flavor down for the tasting.
So this is close to being complete. There are some buckles and straps on the back that i didn't get a shot of, and I still need to sculpt in the back of the leg, the jumpsuit." The full update awaits!

---

Connect with Sideshow on their Social Feeds and win!
-- Posted by Tamer on Tuesday, October 21 2014
Between Facebook and Twitter they are giving away more than $800 dollars worth of products this week. Of special note are the Geonosis Battle Droids Two Pack that will be given away on their Twitter Feed at 10AM Pacific Time. SSC always seems to have cool giveaways and I can easily see why most folks rate their products as among the top end of all Star Wars Collectibles.

---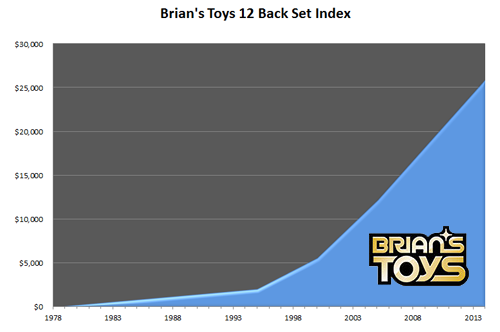 Brian's Toys publishes review on value of Star Wars Collecting!
-- Posted by Tamer on Monday, October 20 2014
"Star Wars Action Figure Collection Value Increases 108,233%

DATELINE -- Brian Semling of Brian's Toys, Inc. announced the "Brian's Toys 12 Back Set Index" to reflect the retail value of the original 12 Star Wars action figures for toys in near mint to mint condition. The original total retail value of these 12 toys was $24.00, or $2.00 per action figure in 1978 and has grown to a retail value of $26,000.00 in 2014. Semling made the announcement from his online store's headquarters (Brian's Toys) located in Fountain City, WI."

I found this article a very interesting read and while not indicative of why I collect (not planning on getting rich) it is interesting to see the historical trends!

---
Dorkside Toys allows you to create a veritable Jedi Army!
-- Posted by Tamer on Monday, October 20 2014
Talk about being proactive with that new 6" Star Wars Black Series Wave 6! They are gonna take those extra Obis and let you have em at an unheard of price of $7.99! With a price like that you can recreate the Battle of Geonosis Arena! Or perhaps create a new SW Alien Jedi or use some NECA or Marvel heads to create new EU Jedis. I mean the forecast is incredible!

---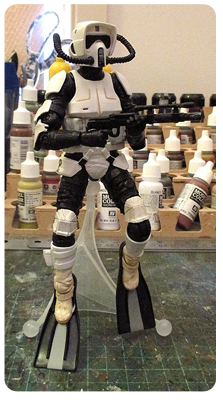 Ron Hembling is his usual creative self!
-- Posted by Tamer on Monday, October 20 2014
He is just downright killing me here with his work on a Hoth Scout Trooper and the Aqua Scout Trooper you see above. The creativity alone makes this worth a look, but his execution is just unparalleled. I can remember seeing an underwater Imperial Walker in some comic from a few years back and man couldn't you see it surrounded by these Troopers?! Ron, thank you so much for sharing your work and being so gracious with how you do the things you do too!

---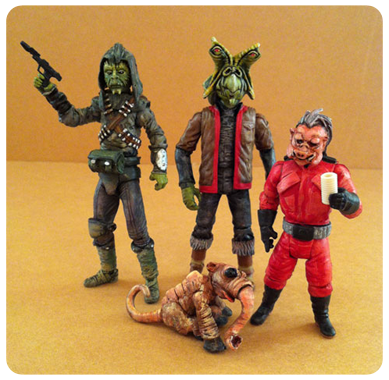 Peakob1 is back with an update...
-- Posted by Tamer on Monday, October 20 2014
"Hey folks thanks for stopping by and checking out my latest customs. Here are a few more non clone wars related characters but still very awesome and near and dear to my heart... it is new characters from Jabbas palace." Its always great to see an update from Chad. His sculpt work and creativity are amongst the best in our hobby!

---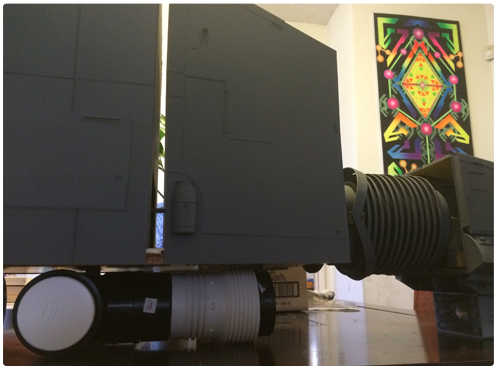 Its time for update #13 on HALCION's AT-AT build...
-- Posted by Tamer on Monday, October 20 2014
"Drive systems in place!" He is a man of few words when it comes to his descriptions, but his pictures of this build as it comes along are nothing short of mesmerizing. As you can see by the image above he is getting closer to starting the legs for this and I was seriously worried his drive system wouldn't be strong enough to support the weight of this. Needless to say, that was pointless.

---