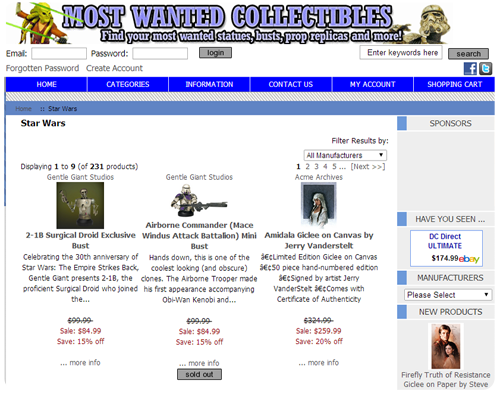 Have you seen Most Wanted Collectible's Star Wars Section?
-- Posted by Tamer on Wednesday, May 27 2015
If not you are missing out on over 230 products, many of which are at deep discounts that you will not be able to find anywhere else. From Gentle Giant to Acme Archives, etc. you can count on Most Wanted Collectibles to list the high end items you demand for your collection.

Rest assured your order will be handled promptly and professionally and show up to your door in awesome shape. Personally I have never had an issue with any order. I have even been contacted by MWC's Customer Service just to make sure some items I ordered showed up ok. I liked that a good bit!

---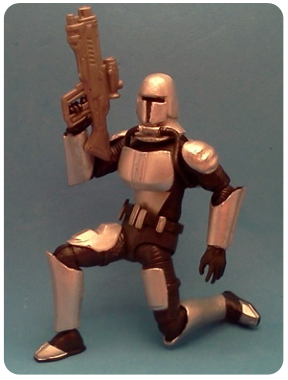 I-am-Boba-Fett gives us a new Mando...
-- Posted by Tamer on Wednesday, May 27 2015
"Here is another figure that I made awhile back. This is custom Canderous Ordo, who became MANDALORE THE PRESERVER when he found Mandalore's mask. This figure is based on his appearance in the Knights of the Republic game and features an all new helmet and head both sculpted, resin cast, and painted by me. The helmet hoses and his rifle attach to his back armor via very small strong magnets."

That magnet work is really awesome. It really looks snug too. Of course the sculpt and paint work is fantastic too.

---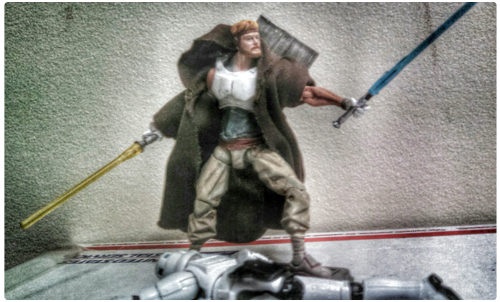 JDeck shows us an Order 66 Survivor...
-- Posted by Tamer on Wednesday, May 27 2015
" So I pretty much finished my Order 66 survivor, Brutis Valli. I'll probably start working soon on a dio for this guy, I think he's pretty cool.

Brutis Valli was a student of the brilliant Jedi Master Wuden. During The Clone Wars Valli seved as Wuden's captain and right hand man.until Order 66 was carried out by Wuden's clone commanders. Valli watched helplessly as his master was shot in the back by his own men. He defended and his master's lifeless body, so it wouldn't be paraded around as a war trophy, and was able to escape. As a fugitive of the Empire he spends his life trying to survive and do as much damage to the Empire as possible. He has cutting down Stormtroopers down to an art form, due to his expert lightsaber skills involving multiple targets. Its rumored he can single handedly take out an entire platoon one squad at a time."

I just love a good back story too.

---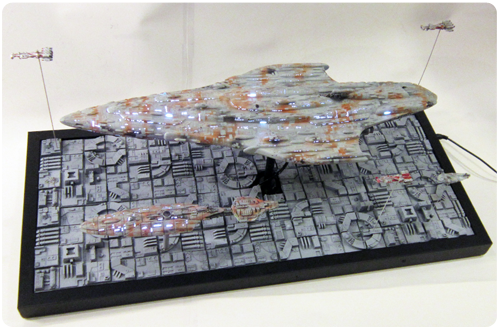 Nicholas Sagan is back with a new model...
-- Posted by Tamer on Wednesday, May 27 2015
"1/2256 MC-80 diorama: Just finished this guy COMPLETE!"

Talk about one awesome Mon-Calamari-MC-80-Cruiser. It even lights up!


---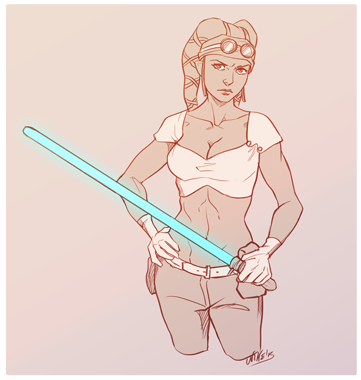 The Irish Rogue is back with new fan fiction!
-- Posted by Tamer on Wednesday, May 27 2015
"Star Wars --- The Clone Wars

Oasis Calm: Volume 1

"Uncertainty is a sign of humility, and humility is just the ability or willingness to learn."

(Opening Crawl)

"The first months of the Clone War rages on! Grand armies of the Republic stride forward bringing order behind. Battlefields grow more diverse while growing heavy with casualties. Each side devises increasingly lethal plots to stave the enemies war efforts in the hope of sparing themselves financial burden. The burden of commissioning a new army.

A' Sharad Hett is charged with investigating such Separatist ploys. Located in the system of Aargonar, Separatists seek a new way to eliminate political opposition. The system's allegiance and resources weigh in the balance.

Jedi Knight Aayla Secura's 327th Star Corp prepares their ships for the coming task. The optimistic young Jedi holds diplomacy in high regard having recently secured a new treaty with the Lurmen of Maridun. The Jedi temple remains an emblem of tranquility on Coruscant; the hopes of the people glowing as the new horizon dawns...."

Folks that is just the opening scene!

---
We launch our latest Custom Challenge!
-- Posted by Tamer on Tuesday, May 26 2015
This time out you have your choice between two themes: create yourself as a Star Wars Custom Figure or scratch build a Star Wars Vehicle. The particulars you can find here and I simply cannot wait to see what folks choose and see their work in progress and final reveal images. Special thanks goes to TS Hobbies who has been kind enough to donate the prizes for this one. Get to building ISYers!

---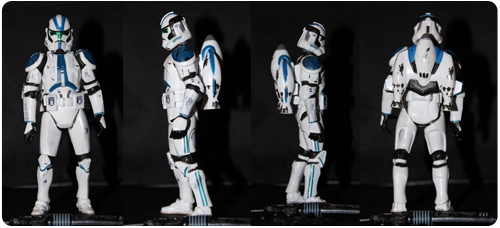 Clone Troopr is back...
-- Posted by Tamer on Tuesday, May 26 2015
"Havenít posted a custom in a while, but here we go! This is the 501st Jet Trooper from the Star Wars Battlefront II videogame. When I first played the game, I knew I wanted a figure of this trooper. When I was finally able to get my hands on the Hasbro Battlefront II trooper pack, I was disappointed with the poor articulation of the figure, as well as how the figure couldnít even hold the EMP blaster properly. After so long, I finally decided it was time I upgraded the figure."

Make sure you find out how he created a great looking Jet Trooper. I must say I love seeing it with its flame on!

---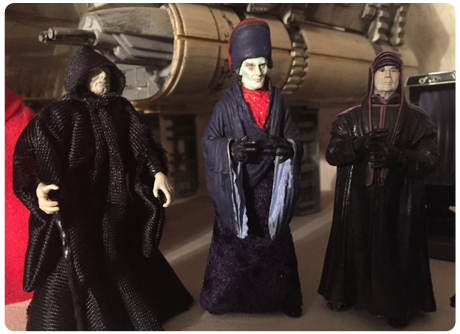 Stan is back with more customs...
-- Posted by Tamer on Tuesday, May 26 2015
"Just finished off Slim Aloo and the Emperor; since it going to a while before Hasbro get to this( or is it), really want to start filling the gaps in my collection. Both are SA and Slim features a removable helmet and soft good robe. Hope everyone like this."

Looks great to me. I wonder how long it will take the big H to get to these themselves?

---
Jodo shares his latest chapter...
-- Posted by Tamer on Tuesday, May 26 2015
"Well, I don't want to give anything away, but things will get "interesting" before they get happy. Thanks for reading!"

Well this one sure has an ominous feel to it. Make sure you let him know what you think.

---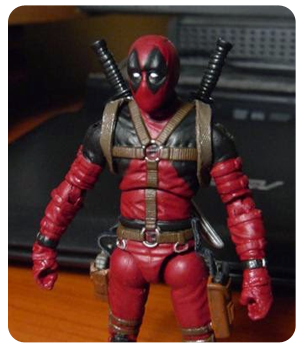 Raimondo is back with a Marvel Update...
-- Posted by Tamer on Tuesday, May 26 2015
He is back with a new custom Deadpool he made with some left over JOE Parts. I must say you can never get enough Deadpools. I am still wondering over the fact that we have not yet received a movie with this popular character!

---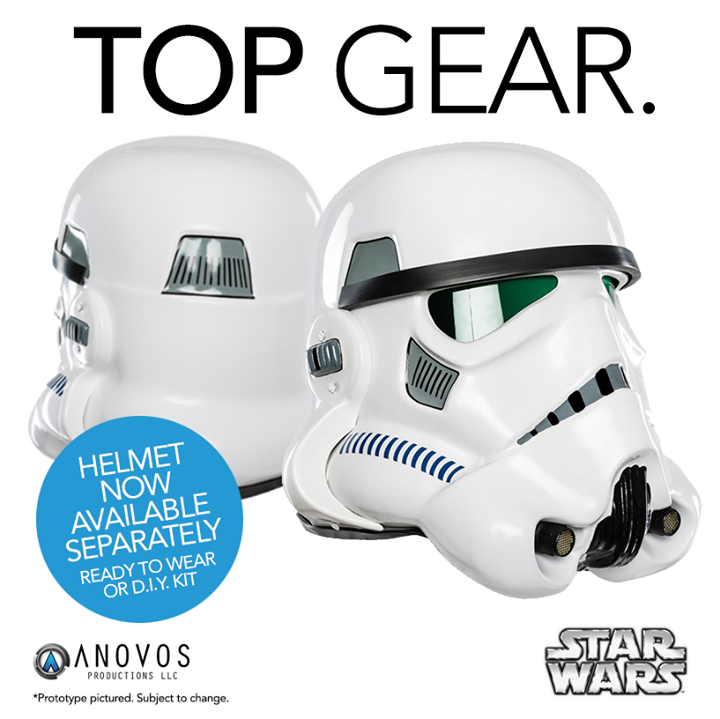 Stormtrooper Wearable Helmet Accessory Now Available!
-- Posted by Tamer on Tuesday, May 26 2015
"The iconic helmet of the white-armored Imperial Stormtrooper is now within reach. Whether you choose the ready-to-wear completed version of this costume accessory or the new do-it-yourself kit, you'll be on your way to starting your own Empire! Pre-order now starting at just $100.00 USD.

Reminder that we're still on target to reach our San Diego Comic-Con International stretch goal! If we can reach 33,000 Facebook fans by July 9th, we're also going to give FREE SHIPPING to 33 LUCKY FANS* who have purchased the Stormtrooper armor by that date. Share and like our Facebook page to bring the world more Stormtroopers!"

---
Happy Memorial Day from ISY!
-- Posted by Tamer on Monday, May 25 2015
We here at Imperialshipyards.net wanted to take a moment to wish our service members and their families a very heartfelt thank you today for all your service. We would also like to extend those same courtesies to our fallen heroes and their families as well. Without all of you we wouldn't be able to pursue the hobbies that we do! I have created a post where you can share your own messages should you so choose.

---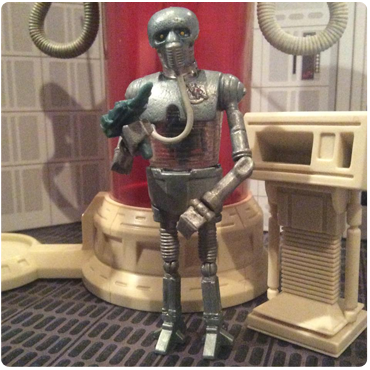 Custom Jedi is back with a TESB Update...
-- Posted by Tamer on Monday, May 25 2015
"Finally got around to adding articulation to 2-1B (by way of IG-86)."

Wow, talk about some new moves for 2-1B (not much pun intended). Oh how I wish we would see this one in a vintage cardback so I could buy one. Nice job Custom Jedi!

---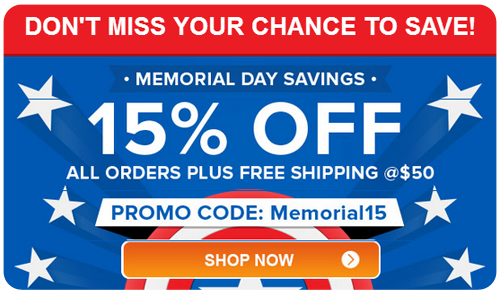 Last day to save at Hasbro Toy Shop's Memorial Day Sale!
-- Posted by Tamer on Monday, May 25 2015
"15% off with no minimum purchase

15% off on HasbroToyShop.com orders of most products currently for sale on HasbroToyShop.com. Discount applies to pre-tax and pre-shipping amount. This offer cannot be combined with any other offer. Offer excludes purchases of HasbroToyShop.com exclusives and Gift Cards Other exclusions may apply. Valid while supplies last. Offer expires May 27, 2015 at 11:59 p.m. ET. ©2015 HASBRO. All Rights Reserved."

---
Its is a Funko POP Vinylpalooza at Dorkside Toys!
-- Posted by Tamer on Sunday, May 24 2015
From their exclusive R2-L3 Astromech Droid PRE-ORDER to just a page full of others you can rest assured you will get a great price from Dorkside Toys.

These little guys are really growing on me, but I am trying to resist getting the full collection. Click here to see if you have that type of willpower! I am crumbling as I am writing this.

---