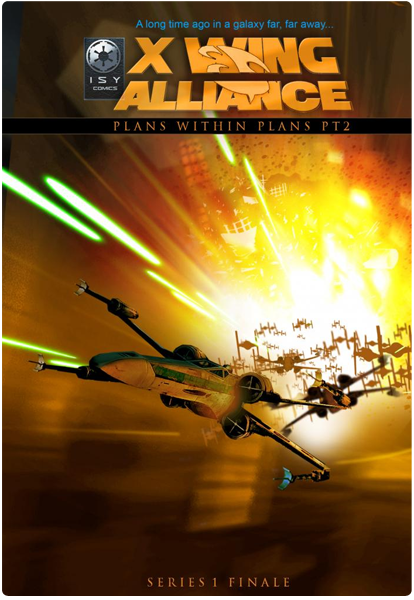 Hangarbay94 is back with an X-Wing Alliance Update...
-- Posted by Tamer on Wednesday, August 27 2014
"Guys, it's been ages since I've been active here, sadly all of my creativity has been focused on work, but it has been paying off, things seem to be looking up! Man did I have a rough time... Anyhow I am still determined to complete this story before possibly returning to it sometime in the future. The final chapter will be some time away yet, but it will be completed. Here is just a taster before I disappear once again." Well after an awesome graphic like that I hope he doesn't stay away too long. It is always great to hear an update about X-Wing Alliance!

---
Entertainment Earth is having a huge Summer Blast Clearance Event!
-- Posted by Tamer on Wednesday, August 27 2014
And I mean huge! With over 2,500 items to peruse get yourself a big cup of java and prepare to get a refill. I must say even briefly glimpsing through some of that this morning they have some awesome prices on some great items. And of course if you want to be Star Wars Specific I have a separate link for their SW Section too.

---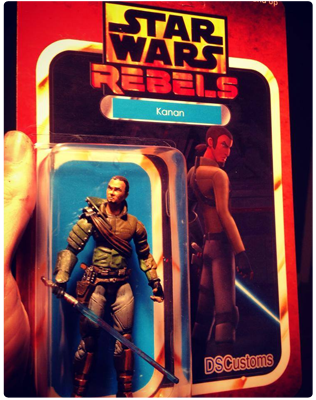 Darth Streams is back with a great Custom REBELS Kanan...
-- Posted by Tamer on Wednesday, August 27 2014
"So it's been awhile, I'll blow the cobwebs off this thread and bring it back to life. My latest custom is of Kanan from Star Wars Rebels." Wow, does that look great both custom action figure and the custom vintage style cardback!

---
Mr. Black updates us on his Man Cave Project...
-- Posted by Tamer on Wednesday, August 27 2014
"Never realized placing 180+ figures neatly in a row could be so time consuming. It was much easier to just throw them in a big bin :D But I have to admit, it's very satisfying seeing all these on display." I really like how he has the vintage figure with their most modern counterpart. Nice work Remco!

---
Spuda Fett gets his hands on the Command Series...
-- Posted by Tamer on Wednesday, August 27 2014
"So... I'm no Ron Hemble... but after seeing his amazing little diorama using the new 2.5" command series sandtroopers I have been itching to get a set. When I found it at walmart for 5 bucks I couldn't say no. For the last few hours I've been painting up three of them... but you know me... I'm not happy if I haven't gotten out the exacto knife. I love these sculpts, for the size they are great. But I wanted to make at least one of the figures different than the other poses. I very gently cut the head off one of the gun toting sandies and turned his head facing the other direction. This gives him a slightly different pose... Here are my results." I love the paint and detail work on these!

---
Custom Jedi is back with some light work...
-- Posted by Tamer on Wednesday, August 27 2014
"I took a break to work on the Cantina tables I got from Production Platform 3. Here's a lighting test I shot after drilling and painting one of the tables." Well I would call that one successful test if you ask me!

---

Sponsor Dorkside Toys lists new 3.75 inch Black Series!
-- Posted by Tamer on Tuesday, August 26 2014
Whether its Commander Thorn or Mosep Binneed, Dorkside has you covered. I would also highly recommend the new Commander Wolffe, Commander Doom, and the new Ceremonial Leia! It is great to see them list these singly so you don't have to buy an entire case to get the single action figure you want as well!

---
Toys R US Canada shares a REBELS AT-AT Video?
-- Posted by Tamer on Tuesday, August 26 2014
Now you know I would be all over this one. I am not sure what this means as far as the appearance of the venerable AT-AT in REBELS or if this means it will be making another return to retail in a REBELS Box (hope so!), but this is a pretty cool run down on the destructive capability of the All Terrain Armored Transport!

---
Starfall is back with a new character for his verse...
-- Posted by Tamer on Tuesday, August 26 2014
"Secondary characters (and 3rd, and 4th, etc.) were always something I felt helped make sci-fi stories successful. Star Wars is a great example of that. So plan to see tons of secondary/background characters in Starfall. Speaking of secondary characters, here is a female Star-Cav marine communications specialist serving aboard The Dreamer's Burden. The Star-Cav marines are some of the toughest soldiers in the star cluster, ready to take on any challenge and turn the tide of any battle." Works for me!

---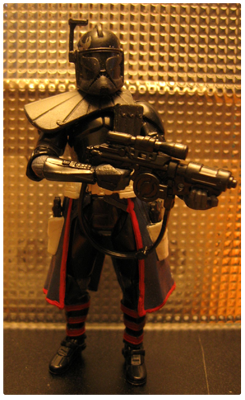 Commander Kurgan shows us a great Shadow ARC Trooper...
-- Posted by Tamer on Tuesday, August 26 2014
Meet "ARC Alpha-78 Shadow". I must say I am really impressed with some of the great Trooper work that CK has shown us since he returned. It makes me wonder what he is gonna get into next.

---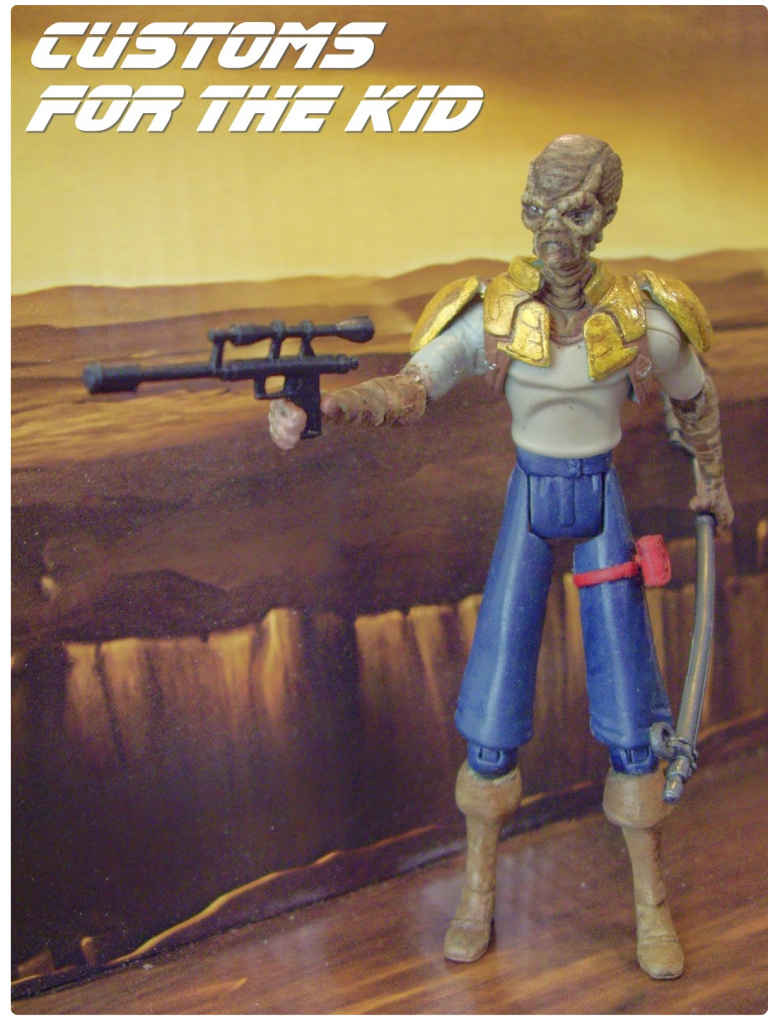 Elias sends in an update on Darth Daddy...
-- Posted by Tamer on Tuesday, August 26 2014
"Here's a figure Dad and I worked on over the course of the week. Every time either one of us walked past him, we worked on him a little more until he was done. We had big customizing plans this past week when we were on vacation. Unfortunately, this action figure of a Clone Wars Weequay pirate is all we have to show for it. Yeah, we know...another pirate." Nothing wrong with that I say!

---
Twelfth Parsec sends in an update...
-- Posted by Tamer on Tuesday, August 26 2014
"Hey guys and gals, Quick update. Regular sets should start to trickle out this week in the order they were received . Sorry for the delay. One of the recent raw plastic orders got messed up , as well as a recent family emergency put us a little behind. Shipping notices should start being sent out again this week. Thanks again to everyone for your contributions and patience." From all reports on the early bird sets I have read, we are all gonna be pretty happy!

---
Doc Outlands is back with an update...
-- Posted by Tamer on Tuesday, August 26 2014
"Have I mentioned we have Econoliner prototypes being printed RIGHT NOW?? VERY SOON we will have the PHYSICAL WALLS in hand to show you with figures standing on them! We expect some minor details to change, depending on how well the details work with figures - like the depressions in the floor not swallowing a Stormie's foot!" It will be nice to see what these look like printed!

---
New REBELS video Entanglement Short...
-- Posted by Tamer on Monday, August 25 2014
"In "Entanglement," a special Star Wars Rebels short, Zeb fails to meet with Kanan at a specified rendezvous point…and instead finds himself joyfully battling many, many stormtroopers." Well it still looks like Storm Troopers can't hit anything!

---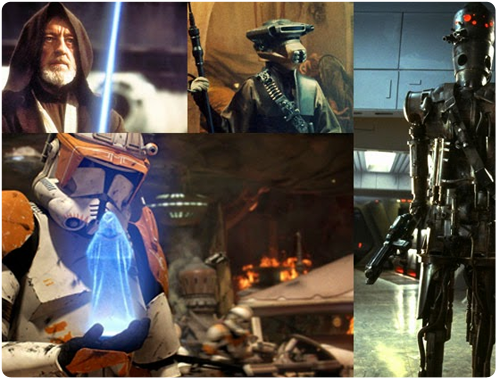 Sponsor Dorkside Toys reveals new additions to the Black Series 6 inch Series!
-- Posted by Tamer on Monday, August 25 2014
Sponsor Dorksidetoys has listed several new Star Wars Black Series Six Inch figures, some are not yet are currently available for Pre-Order as yet, but they do have the previously seen Han Solo Stormtrooper, Tie Fighter pilot, Yoda and C-3PO up for pre-order.

Many of these are no real surprise and some already revealed. Certainly very, very welcome additions.

The Star Wars Black Series Six Inch forthcoming Figures they have revealed today are:

IG-88 (logical given Bossk and Boba)
Clone Commander Cody (Squee! Hopefully phase two)
Leia (Boushh Disguise)
Obi-Wan Kenobi (classic Alec Guinness version-let's hope so)

Now available to pre-order and previously seen:

Imperial Tie Pilot (already seen at SDCC)
Clone Trooper Sergeant (already seen at SDCC)
Yoda (already revealed previously)

Head on over and get your pre-orders in. We'll let you know when others go live.

---