John Caliber starts a new series: Aversion Corridor!
-- Posted by Tamer on Monday, March 30 2015
It is great to see Star Wars Toyscapes: Aversion Corridor (Episode One) and see him incorporating new effects into his graphics. From creating epic dioramas and some image wizardry along with a great story this is just a nice way to get your work week started!

---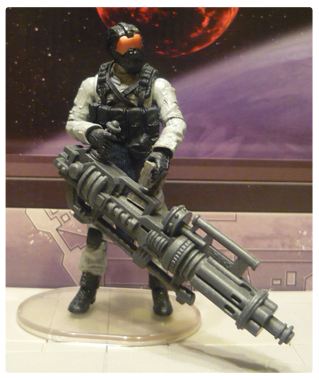 Jedi Minstrel adds even more to his new line...
-- Posted by Tamer on Monday, March 30 2015
"Little is known about Spc. Biinaes Vic other than he lost both his parents to an industrial accident in Sith space when he was a child. An uncle, the navigator on a freighter, was able to smuggle him and his younger sister into Republic space. He placed both children with a friend where they were able to grow up in a less fanatic environment. Biinaes wanted to help people like his parents and do what he can to defend and expand the Republic." As you can see his interesting back stories complete his great customs.

---
OC47150 is back with three new customs...
-- Posted by Tamer on Monday, March 30 2015
"A couple of customs to end the weekend. A younger version of Qui-Gon. Straight repaint: darkened the hair and gave his robes a different color. A Naboo pilot with the jacket. I used the POTF2 Endor Han cloak and painted it orange. I created this one for a comic show last year. Took one of the POTF2 Obi-Wan's and gave him the old '70s colors." It is great to see folks still getting use out of POTF2 Figures!

---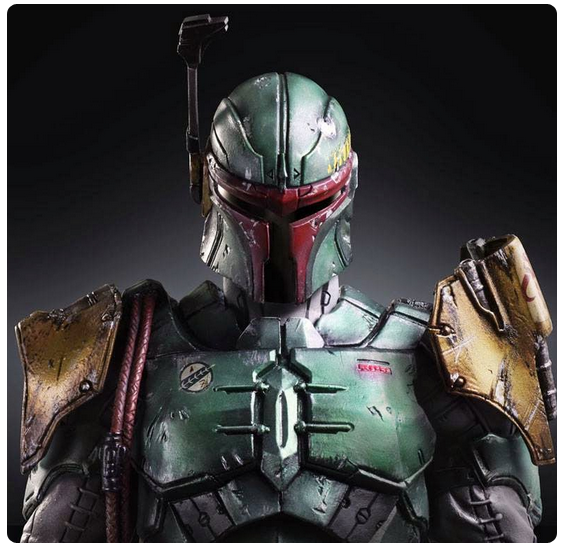 Dorkside Toys lists the new Square Enix Play Arts Kai Star Wars 10 Inch Figures!
-- Posted by Tamer on Sunday, March 29 2015
I was absolutely stunned when I saw our friends at Yakface share the news on these this week on Facebook. Folks, hands down these are definitely stylized versions of these very popular baddies of our SW Verse, but I dare you to take one look at that Boba Fett and tell me that is not one of the toughest looking versions of this character you have seen! They also have a Storm Trooper Figure too so you may as well get over the violence and get both!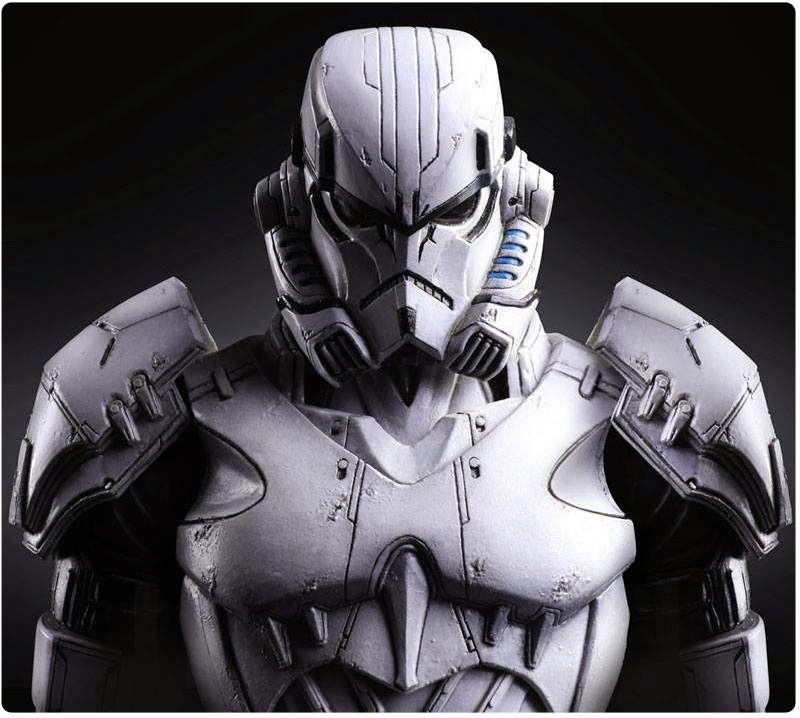 ---
Sillof sends new word on customizing Celebration 7 Fun!
-- Posted by Tamer on Sunday, March 29 2015
"For our 2nd straight celebration I will be hosting the panel on action figure customizing. The panel is on the collectors stage 210AB on Friday from 12-1. The panel will feature the work of many customizers, as well as tips, tricks, resources, line debuts, figure giveaways, and the coveted limited edition collector's track pins. The time I really wanted to go more in depth with the specifics of how the hobby is done in all of its various forms. I also wanted to share the work of more customizers this time around. I think the panel does both nicely. I have an 60 minutes this year as opposed to 45 minutes at C6.

The other event is something new I am trying this year. I usual I will be helping out at the Diorama Workshop (this years theme is Cloud City) We are located in Hall B directly next to the Hasbro who is officially sponsoring us. Two times a day each day I will be offering classes to help people learn how to do the hobby. Attendees will sign up at the show and have to bring 2 figures - one to modify and one to donate. Be sure to come check it out and please spread the word. I if you would like to donate figures or parts for us to me to use at the show please contact me at sillof@sillof.com.

I justed posted some new graphics and specific info on my site along with images of PeakOB1 & Sithfire30 figures we will be giving away: http://www.sillof.com/C7.htm

Thanks and I hope to see a lot of you at the show!

Jamie Sillof

---
Time is running out to vote on our latest custom challenge entries!
-- Posted by Tamer on Saturday, March 28 2015
It has been an honor to showcase the showcase the wonderful entrants for our latest Star Wars Custom 6" Challenge. Click here to go vote for your favorite. The top 3 voted by you the members will see them receiving a prize courtesy of ISY. Thanks to all the great entrants. Each one is just a fantastic exemplar of why it really is a great scale to customize in! And please spread the word as these folks deserve as much exposure and voting numbers as time allows!

---
Tankster is back with a T.M.N.T. Krang...
-- Posted by Tamer on Saturday, March 28 2015
"Made to fit in with the Classics scale but took liberties on design pulling from IDW verse to Original Cartoon series." I think Nickelodeon needs to talk to Tankster and get some of these creations mass produced. Can't you imagine the excitement something like this would generate. Wow he is coming up with some awesome variations!

---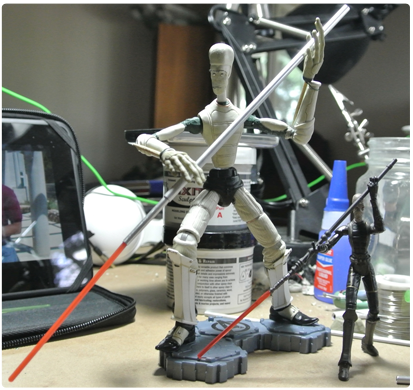 Candy Blues checks back in with a 6" Darth Plageuis Update...
-- Posted by Tamer on Saturday, March 28 2015
"I find myself constantly going back and adjusting things om not quite content with. But that's OK with me because i know it will look better in the end. Just a quick taste, in the first steps of the all important accessories. My idea is to have the actual saber blade hidden in the shaft of the staff, with a spring loaded action. Which will come up through the hollow, detachable saber hilt. I make it sound cool, but I've already come to find that this will take some planning to make it real." As you see he is continuing the epic detail work on this six inch custom Sith. I am definitely looking forward to seeing this one finished!

---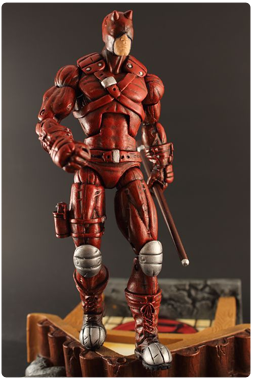 Bronxstalker is back with a Marvel Update...
-- Posted by Tamer on Saturday, March 28 2015
"Taking a slight break from Star Wars figures. Since my last Daredevil sold, I figured I'd make a new one. 6" tall figure with some sculpt, and total repaint to give him that menacing Daredevil look." He has even included a link to his current auction for this great looking custom action figure.

---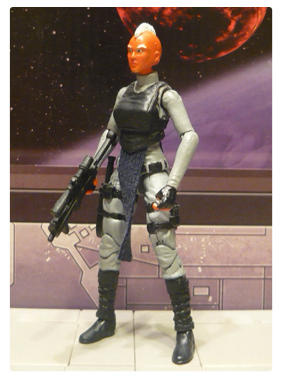 Jedi Minstrel continues his 3470 years before Battle of Yavin Series...
-- Posted by Tamer on Saturday, March 28 2015
"Cpl. g'Rhea Kishke, growing up on an agi colony in the Expansion Region was all set to continue in the family business after college and hadn't thought the military as a possibility. Then she met Breenai, a Lt. in the Republic Army. She talked about adventures, traveiling, and the people she met all over the galaxy. g'Rhea was enthralled. Breenai got her to apply at the planetary recruiting office. She had hoped to get through basic training and request assignment with Breenai's company. Unfortunately, her friend was killed in an ambush against Imperial forces. g'Rhea pushed herself through basic and after her first year was reassigned to the Republic Rangers." He has some great integration of soft goods with this series too.

---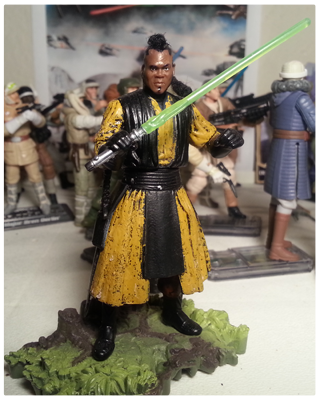 Ajunta Pall continues to showcase a ton of great customs...
-- Posted by Tamer on Saturday, March 28 2015
He is back with new updates in the form of Jedis and other great characters. He is really integrating parts from various lines extremely well and coming up with unique variations on our favorite characters. I am also really enjoying his EU Focus too.

---
Learn More about our Luke Skywalker Hoth Figure!
-- Posted by Tamer on Saturday, March 28 2015
"In our first video edition of How to Be a Poser, Sideshow Sixth Scale master Terry shows you how to take Luke Skywalker from box to Hoth." Watch the video, then click here to go order yours today!

---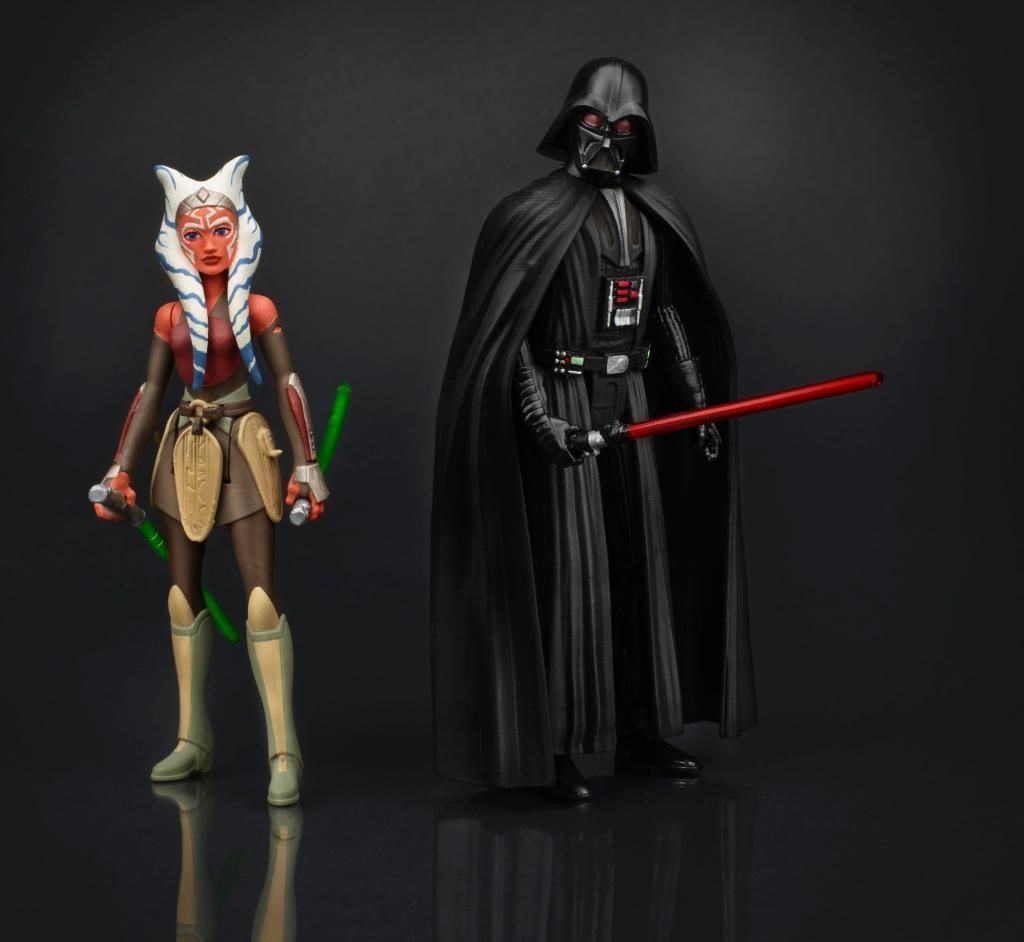 Hasbro sends word about the fate of the Mission Series and Saga Legends...
-- Posted by Tamer on Friday, March 27 2015
Via Hunter PR, "We can confirm that all announced Saga Legends and Mission Series figures for 2015 will reach stores. As for the future of the lines, as you know we're unable to discuss any upcoming and unannounced products for Fall 2015 and beyond at the moment, but you've already seen the Ahsoka/Vader two-pack, which will be available this fall. Stay tuned for more info."

---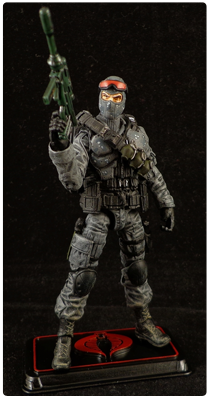 Stronox is back with a JOE Update...
-- Posted by Tamer on Friday, March 27 2015
"Firefly is one of my favorite characters in the joeverse and while I have made numerous versions of him over the years this is by far my current favorite. He was made from numerous figure parts and bits and I made his backpack more functional by adding a removable explosive that is magnetized. Also, the remote is small enough to fit inside his pack as well allowing him to have all his gear stored on the figure." Click here to go add it to your collection.

---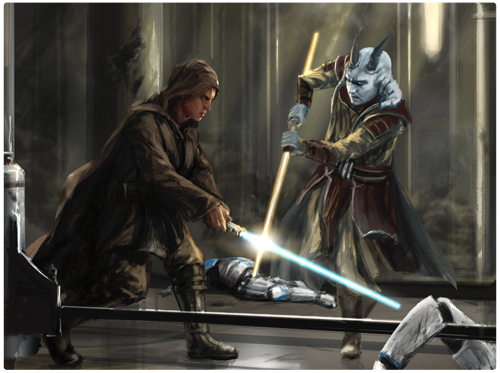 The Irish Rogue is back with a new chapter of The Clone Wars: Knightfall - Raid of the Jedi Temple...
-- Posted by Tamer on Friday, March 27 2015
Definitely some of my favorite fan fiction, IR is back with a continuation of his story about the raid on the Jedi Temple during The Clone Wars. TCW is still alive and well thanks to folks like the Irish Rogue. Click here to go get started.

---